Photo Gallery
April brings all the wonderful new life of spring. The flowers are blooming and the garden is looking wonderful. Spring outfits for the Terri Lee doll are my favorite ones. Since Terri Lee is a toddler doll she is just adorable in little organdy dresses. So this month I will display some of Terri and Jerri Lee's Easter and spring costumes.
| | | | |
| --- | --- | --- | --- |
| Terri Lee is wearing her yellow Tea Party outfit. This is an organdy dress with eyelet lace. She accessorizes with a white straw hat and purse though these are not the actual ones that came with this outfit. Beside Terri sits a large yellow paper mache bunny which is also from the 1950's | | This is the same Tea Party outfit in pink with the correct hat and purse. The hat and purse are straw with velveteen trim. Tiny Terri Lee is wearing a coordinating pink organdy dress and straw hat. | |
| | | | |
| --- | --- | --- | --- |
| | Patty Jo, the black Terri Lee created by Jackie Ormes, is wearing a yellow dotted Swiss dress trimmed with lace and ribbons. She dates to 1947-49. | | Terri Lee and Jerri Lee model their aqua pique spring suits. Terri Lee's top is trimmed with |
| | | | |
| --- | --- | --- | --- |
| This is an early version of the spring suit. It has a "loopy" Terri Lee tag and it was made in Lincoln, Nebraska about 1950. The fabric is a very small waffle pique and the jacket is double breasted. The doll is a vivid redhead Patent Pending Terri Lee from 1950-1951. | | Both of these dolls have "baby chick" yellow hair which is hard to find. Terri Lee and Tiny Terri Lee are dressed in their Alice in Wonderland Costumes. The dresses are pale blue taffeta with lace trim. They have white organdy pinafores. Two white and pink paper mache Easter bunnies are also shown in the photograph. | |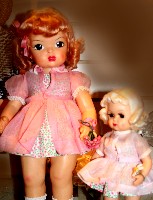 Terri Lee and Tiny Terri Lee are showing off their redingotes. These are sun dresses with an organdy over dress. These outfits are very popular with collectors and come in many different colors. The sun dress underneath also comes in several different fabrics. These are precious outfits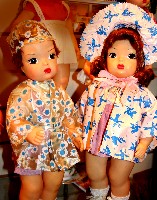 Since April brings many showers Jerri Lee and Terri Lee are showing you two of their rainwear outfits. Jerri sports his daisy pattern plastic raincoat with belt and hat. Terri Lee shows off her pink and blue clown pattern raincoat and hat. The hat has a large brim to keep the rain off her face and the plastic is pinked around the edges. Her hat and coat both tie with taffeta ribbons.
| | | | |
| --- | --- | --- | --- |
| Now this is a spectacular Spring Costume complete with a baby chick on the straw hat. Here is a Patent Pending Terri Lee from about 1950 in a yellow organdy shadow print two piece costume. The dress has a yellow sundress underneath with the fancy shadow print overdress. Terri shows off her white straw purse and matching hat made my Ruth Miller. This hat and purse is extremely rare and much sought after by collectors. | | If Easter is early Terri and Jerri will need to wear their very light weight wool Spring Coats. The coats are double breasted, lined in white taffeta and trimmed with pearl buttons. Terri's Coat has a removable white pique collar. Both dolls are shown with off white felt hats and Terri has her felt purse as well. Her hat and purse are trimmed with felt flowers | |
| | | | |
| --- | --- | --- | --- |
| | Here are coordinating outfits for Big and Little Terri's and Jerri's. These are pique spring suits in yellow. Big Terri Lee and Big Jerri Lee have straw hats to match their outfits. Tiny Terri and Tiny Jerri Lee have flowers embroidered on their jackets and matching pique hats. Tiny Terri's hat is a sailor type and Tiny Jerri's hat is just a little cap. Don't they make a beautiful foursome? | | April 6th is a very special day because it is the birthday of my twin granddaughters Maya and Marissa. These Linda Baby dolls are dressed up in their christening outfits. Happy Birthday Babies! |
If you have questions, please email me.
Back to top