Welcome
I have been collecting vintage Terri Lee Dolls for over thirty years. My collection is a great source of pleasure, fun, and camaraderie. I enjoy displaying my dolls in a special room with themed custom cases which my husband Roger built for me. My research about Terri Lee dolls, clothing, accessories and history has also become my passion. I give lectures and tours of my museum by appointment. Some of my favorite dolls are those with provenance from the original "Little Mothers."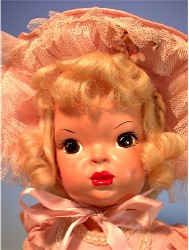 Collecting Terri Lee dolls is an on-going infinite search. There are always new finds, additional outfits made in different fabrics or different colors to discover.
Speaking of new finds, please plan to visit us at the Terri Lee Queen of Dolls Convention on October 19-209, 2017 in Atlanta, Georgia. Seating is limited so register now. The flyer includes all the details.
Be sure to look at the Gallery page; here you will find a monthly changing variety of the dolls in my collection, dressed as appropriate for the season.
Terri Lee dolls were first marketed by Violet Gradwohl in Lincoln, Nebraska in 1946. She moved the Terri Lee Doll Company to Apple Valley in 1952 after a fire in Lincoln.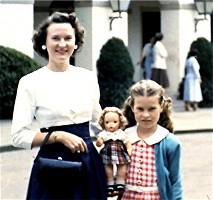 The Apple Valley factory closed in 1958. She sold Terri Lee dolls under the name of INS or Marfan in 1960, 1961 and 1962. In 2000, a company named Knickerbocker Dolls in Irvine, California produced a reproduction Terri Lee from the original 1950's molds which later was continued by Terri Lee and Associates.
Besides my doll collection, I am a retired high school mathematics teacher and I loved teaching Pre-Calculus in a very special program called International Baccalaureate. The IB program is a very demanding all-inclusive, advanced placement curriculum providing college credit to high school students. It was a very rewarding position.
My other love is genealogy which I have been involved in for about 15 years. It keeps be busy on days I am not working on my dolls. I am a member of the Daughters of the American Revolution and many of my relatives came to American in the 1600's. Never a dull day goes by in my household.
Please enjoy my photos and email me if you have questions.
Sandy Dorsey
YoursTerriLee
If you have questions, please email me.
Back to top